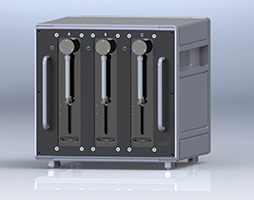 New Syringe Drive System
Introducing our new intelligent and versatile syringe drive system suitable for a wide range of applications.
Fully integrated, streamlined fluid control and delivery via our new highly accurate multi-syringe delivery system. Populated as a dual or triple syringe pump systems fitted with high precision stepper motors.  Syringe drive modules can even be linked together providing up to fifteen pumps working in unison.
Numerous syringe options allowing precision 1uL dispense volumes from 10uL syringes or larger doses from up to 50mL syringes.
Applications for dynamic multi-ratio delivery systems with triggering support and more.