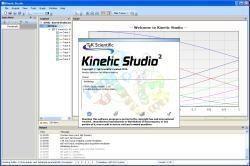 Kinetic Studio Updates
Latest Releases of Kinetic Studio: KS 2.33, KS 3.04, KS 4.07
Full support for Windows 7, 8.1 32bit and 64bit.
Windows 10 supported for data analysis
KS 4.x features support for our USB connected instruments.
Latest features to be included in KS 4
New highly flexible CCD spectrometer array support.
New high performance USB connected CCD spectrometer mode with tablet support and integrated third party light source options.
For more information on upgrades please contact Sales.