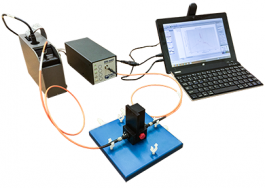 New Modular CCD Spectrometer Setup
New fully integrated modular spectrometer setup driven from a laptop, tablet or desktop PC running Windows 7, 8.1 or 10!
Featuring fully integrated control of the CCD and light source from Kinetic Studio.
Full support for desktop workstations, laptops and even tablet computers!
Optimised control panels for both desktop and tablet modes.
Featuring single scan, multi-scan and kinetics modes.
Flexible data handling, integrated mathematical operations and data fitting support.
For more information or to discuss how this arrangement can be configured or developed for a particular requirement, please contact Sales.