Rapid Quench-Flow
Product Codes: RQF-73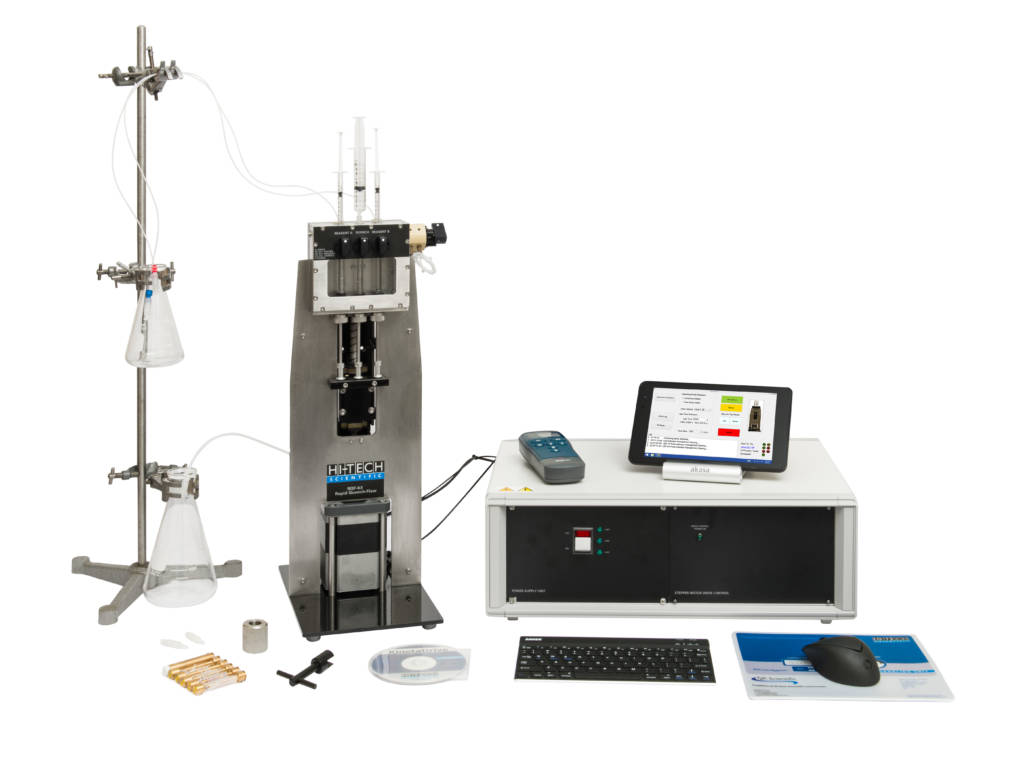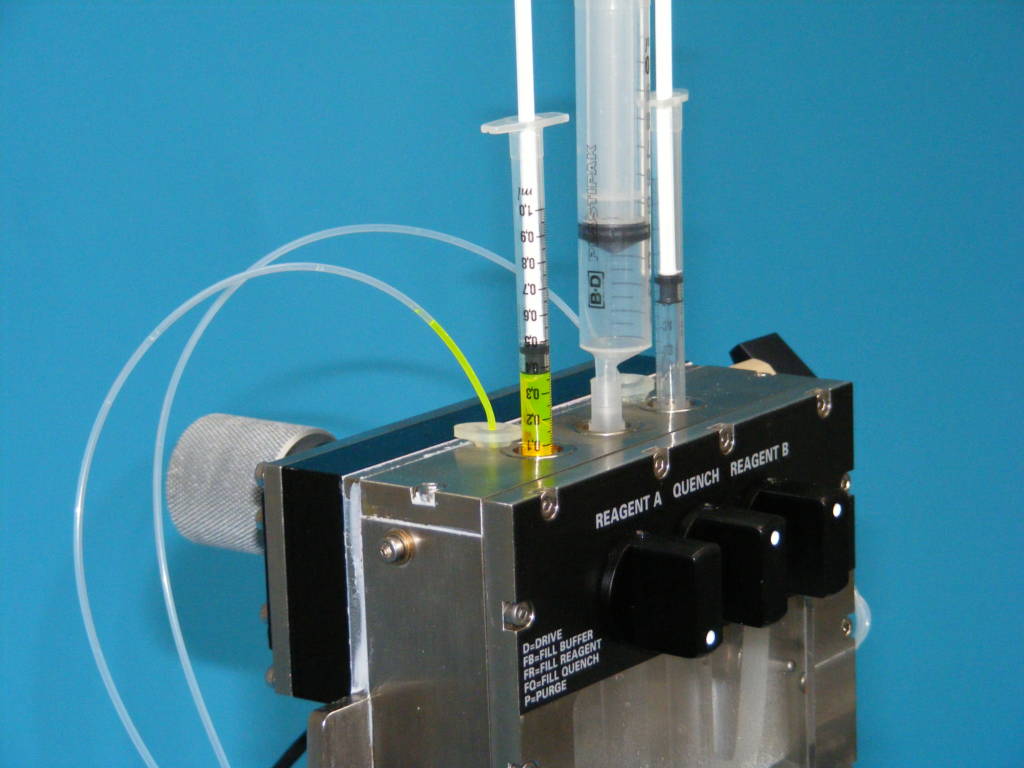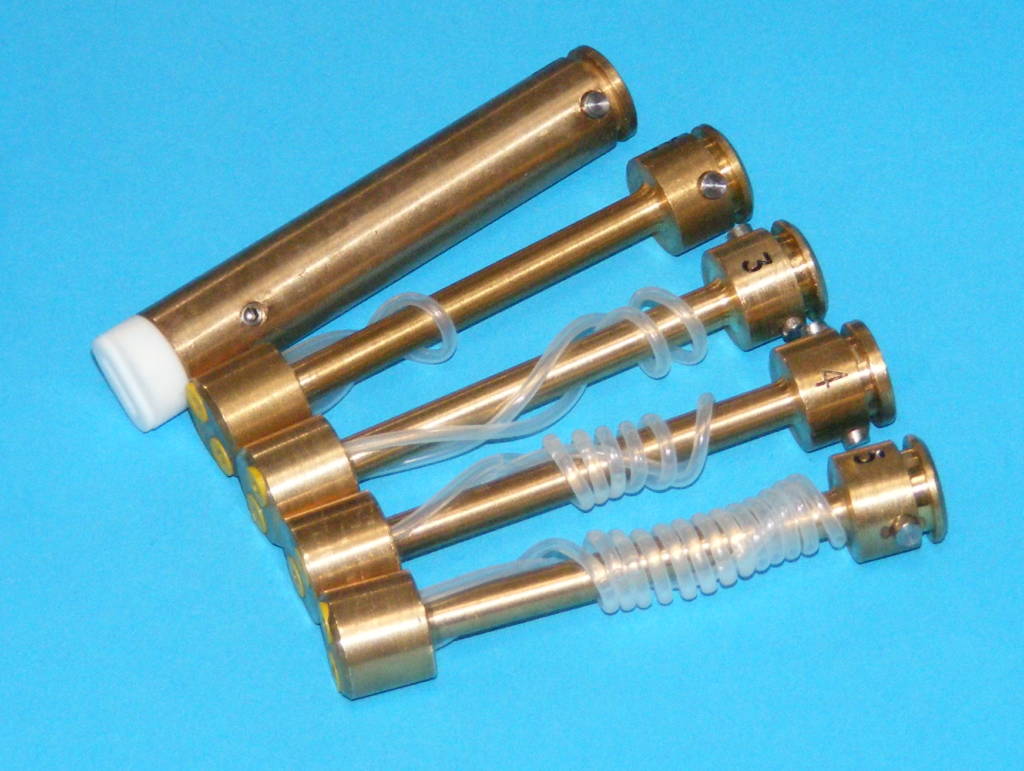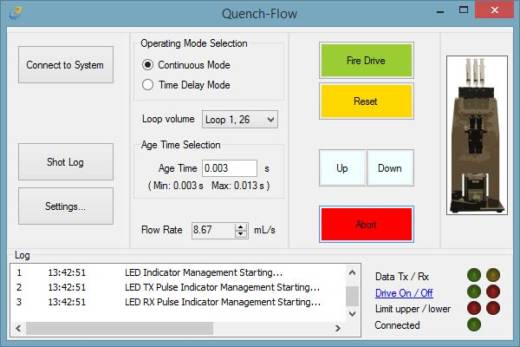 The RQF-73 Quench-Flow sample handling unit features a biochemical compatible thermostated flow circuit. A Windows 10 application, KinetaDrive sets up volumes and flow rates based on user selected age times.  This user friendly interface provides intuitive control, aiding the efficient collection aged samples and logs each shot to aid record keeping.  Age times can be defined from <5 ms to 100 s by operating the instrument in continuous, 'push-push' or 'interrupt' mode.
For continuous mode, a range of age loops are supplied. These are mounted on cartridges for easy exchange without any disruption of the thermostat system. For the interrupt mode, just one of the age loops is necessary. The two reagents are mixed together and held in the loop, and after a predetermined delay set by the controller, the drive delivers a second push emptying and quenching the reaction volume.
Our extensive experience in the handling of small volumes of solution for kinetics studies has led to a modular sample circuit design, virtually eliminating discrete tubing and connectors. The solution displacement syringes are driven by a single powerful stepper motor thus delivering precise and known flow rates with excellent reproducibility.
We have experience of installing Quench-Flow instruments in glove boxes for strictly anaerobic operation.
Selected Publications
Barman, T.E., Bellamy, S.R.W., Gutfreund, H., Halford, S.E. and Lionne, C. (2006) The identification of chemical intermediates in enzyme catalysis by the rapid quench-flow technique. Cell. Mol. Life Sci. 63 (2006) pp. 2571-2583.
Tongsook, C., Sucharitakul, J., Thotsaporn, K. and Chaiyen, P. (2011) Interactions with the Substrate Phenolic Group are Essential for Hydroxylation by the Oxygenase Component of p-Hydroxyphenylacetate 3-Hydroxylase. Journal of Biological Chemistry, 286(52), pp. 44491-502.
Ruangchan, N., Tongsook, C., Sucharitakul, J., and Chaiyen, P. (2011) pH-dependent studies reveal an efficient hydroxylation mechanism of the oxygenase component of p-hydroxyphenylacetate 3-hydroxylase. Journal of Biological Chemistry, 286(1), pp. 223-33.
Relevant Application Notes

AN.024.R73

Rapid quench-flow temporal calibration introducing a Windows application to control sample delivery.

AN.005.R63

Rapid quench-flow studies of enzymatic cleavage of covalently closed circular DNA

Keywords

Rapid quench flow
restriction enzyme
recognition sequences
EcoRV

References

¹Fritz K. Winkler and Dirk Kostrewa, Biochemistry 1995, 34, 683-696